Top 20 Places to visit in Shimla
1- The Mall Road
Located in the heart of Shimla town is the Mall road which is the most happening place in the tourist city. The road is lined with numerous eating joints, cafes, hotels, and shops. Tourists can enjoy scenic nature views while sipping hot coffee and shopping the local handicrafts and antiques.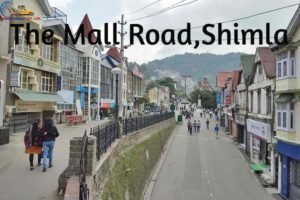 2- The Ridge
Situated on the side of the mall road is a wide-open street called the Ridge. It is a hub for all cultural activities, local festivals, and exhibitions in Shimla. It attracts tourists from all over with its colonial architectures and by offering a picturesque view of pine-covered snow hills.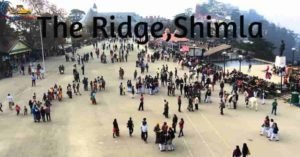 3- Christ Church
For people needing holy serenity in the lap of nature, Christ church is a must visit. It is a beautiful architectural heritage building set in neo-gothic style and is the second oldest church in North India. The stained church windows and bells add unique charm and transport you to a different era.

4-The State Museum
The state museum is set in a Victorian-style mansion which was once the residence of many British and Indian government officials. The museum now is used to preserve rare artifacts which have historic, archeological and artistic importance. Primeval coins, paintings, stone age devices, dolls are up for display here.

5- Jakhu Temple
Located on the Jakoo hill, this temple is dedicated to Indian deity, Lord Hanuman. The temple origin is found since pre-historic events in reference to the Ramayana. In the year 2010, the world's tallest statue of Hanuman was constructed near the temple at a staggering height of 108 feet.

6- Indian Institute of Advanced Study
IIAS is set in the building of Viceregal Lodge which is a Scottish structure. Though it is a Presidential palace, it was handed to education ministry which turned it into IIAS. Parts of the building are open for tourists along with its gardens as a part of the guided tour.

7- Summer Hill
Of all the seven hills of Shimla, Summer hill is the most beautiful and mesmerizing one with pleasant cool climate. Trekking and horseback riding are fun activities to do in the dense forests of the hill. The cedar and pine forests provide refreshing holiday with a sense of serenity surrounding it.

8- Potters Hill
This is a camping resort located in the botanical forest of summer hill. It attracts adventure and nature lovers to camp here and reconnects with nature. Bird lovers and honeymoon couples can go for picnics and leisure walk in the vast area. Pottery community prevails here and tourists can avail handicrafts.
9- Annadale
There is flat terrain in Shimla famous as the playground of the city since British era known as Annadale. It is famous for serene picnic spots and has a golf course nearby. Polo and cricket tournaments are held here since Pre- Independence. The army museum located here is quite an attraction with well-documented photos and weapons.

10-Sankat Mochan
Approximately 5km away from Shimla lies Sankat Mochan temple amidst lush greenery. The temple is dedicated to Indian deities, Lord Hanuman, Lord Rama and Lord Shiva. Tourists visit the temple to get blessings and enjoy the beautiful location during their stay. It is believed that a visit here will remove all worries.
Places to Visit in Shimla & its Nearby (10 kms – 60kms)
11-Tara Devi Temple
Tara Devi temple is 11 km away from Shimla.
For pilgrims seeking serenity and peace from their worries, Tara Devi temple is a must visit. The temple is located in mid of oak and Rhododendron trees. The temple is believed to be 250 years old and is dedicated to Tara Devi who is an incarnation of Goddess Kali.
12-Kufri
It is a small hill station which is 15 kms away from Shimla district famous for winter annual sports. It is also a famous honeymoon destination as it receives snow-fall due to its higher altitude. Skiing, trekking, hiking, and tobogganing are the cool adventure sports popular in Kufri. It is also famous for picnics and nature parks.

13- Chail
Chail is 45 kms from shimla and 45 kilometres from Solan. a 2-hour drive from Shimla will land you in the quietest hill station called Chail.It is known for its salubrious beauty and virgin forests. It is tucked in the lap of nature and was once a summer retreat town to the king of Patiala. World's highest cricket ground is located here at an altitude of 7500 ft and is a famous hiker's paradise too.

14-Tattapani
About 15 km away from Shimla is a beautiful destination called Tattapani famous for its hot water springs which are known to have medicinal value. The water springs and temple near Shiva caves are the tourist attractions here. Tourists can indulge in Fishing activities and white water rafting on the banks of River Sutlej.
15- Mashobra
It is known to be one of the most beautiful rest houses among Shimla hills. This misty town is famous for apple orchards and a bunch of adventure activities. The quieter hill town is surrounded by oak, pine, deodar and cedar trees. Bird watching, trekking, paragliding, and rafting activities beckon the travelers to Mashobra.

16- Naldehra
Naldehra is 25 kms from shimla . This hill resort is nestled in the Himalayan range is nothing short of a picturesque beauty. The 18-hole golf course is the famous tourist attraction which is situated at an altitude of 2500m. This hill station is a perfect holiday resort to unwind and relax under the blue skies and lush greenery.

17-Narkanda
Naldehra is 65 kms from shimla.Narkanda is a town and a nagar panchayat in Shimla district in the Indian state of Himachal Pradesh.
Situated at an elevation of 8000 ft is the quaint little town of Narkanda. It is located amidst woodlands and orchards. Autumn is the best time to visit Narkanda as tourists can see trees in full bloom. The snowy peaks beckon adventure junkies to Narkanda making it a perfect holiday destination.
18- BhimaKali Temple Sarahan
At 150 km away from Shimla lies the famous Bhim Kali temple in Sarahan. The temple is dedicated to goddess Kali and it is considered to be one of the powerful 51 Shakti Peetas of India. The temple has a unique architecture with a wealth of wooden carvings built in Tibetan and Buddhist styles.

19- Chanshal Pass
Chanshal Pass is located about 160kms from Shimla.
The Chanshal Pass is situated on top of the Chanshal peak which is the highest peak (altitude is 1500 ft) from Shimla. The pass is open only during summer months and remains closed for the rest of the year. The pass links Dodra Kwar and Rohru regions and provides a scenic view of Himalayas.

20- Badi Ki Dhaar
Badi ki dhar is also known as Badi Dhar is situated 60 kms From shimla. Most Beautiful sights of Shimla can be seen from the top of the hill. This place is famous for its Lord Shiva Temple and annual fair which is organised on 14/15 June.