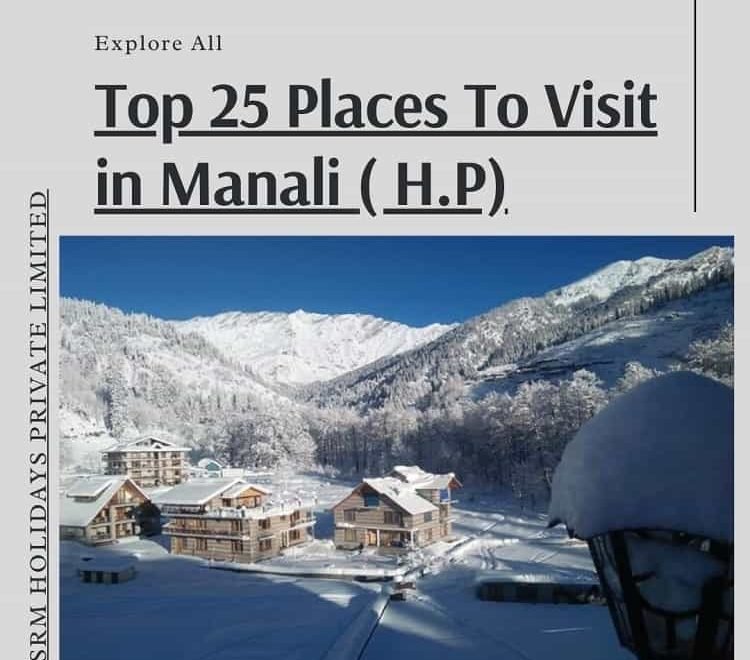 Places to visit In Manali Tour.
#Famous Ancient Temples In Manali
1- Hidimba Temple.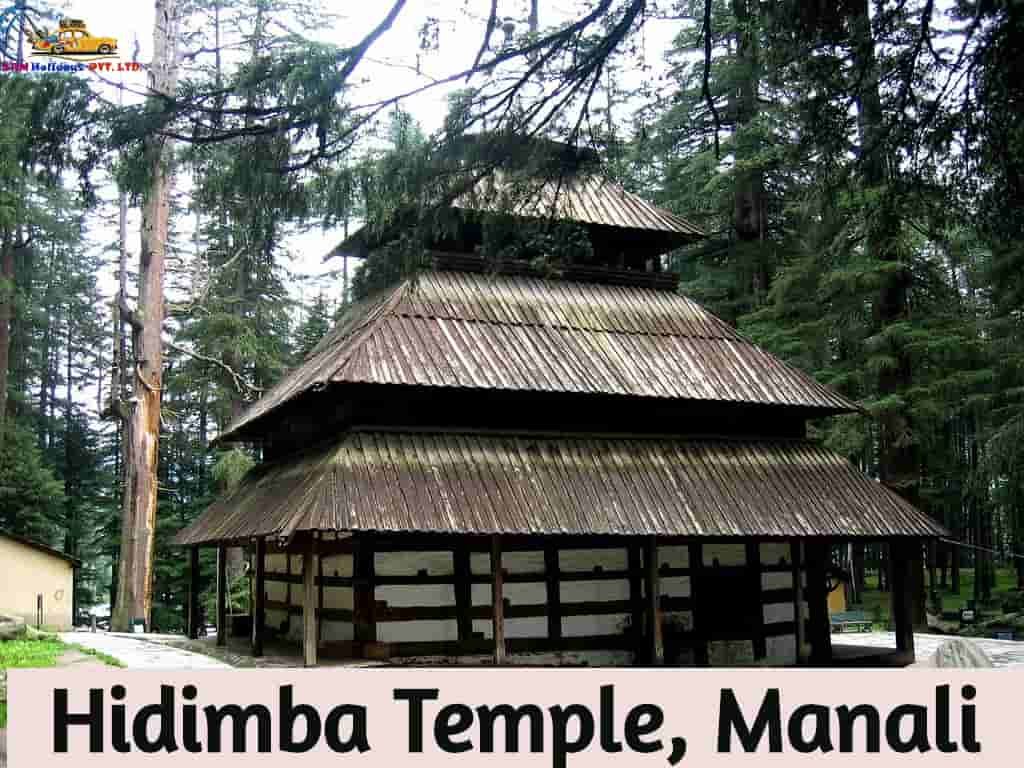 It is mostly called as the Dhungiri Temple. It is one in all the foremost necessary temples with-in the area. The Hadimba Temple is associated with an antique cave temple which was devoted to Mata Hadimba Devi who was a sole character in the Mahabharat. Goddess Hadimba was also known as the sister of the Demo
n Hadimb who reigned the mountains and was feared by all and laterly she became wife of the Pandava Prince- Bhima.The temple is surrounded by dense deodar forests, which is very beautiful & it's unique wood & stone architecture looks like a Japanese Pagoda.
2- Manu Temple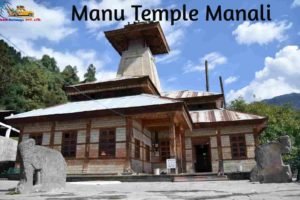 Manu temple is said to be the only temple of Manu  Rishi in India, who is believed to be the creator of Humans,according to mythology.  It is in Old Manali region and at distance of 3 kms from Manali Town and connected with the main market through a road which passes through Manali Community Center.
3- Maa Sharvari Temple.
This Temple is at distance of 5 kms from the main market, the temple is situated above Shaminallah Village.
Deity Sharvari is one of the famous religious goddesses of this region & said to be the idol of the Kullu kings' Kuldevi. This temple witnesses variety of devotees throughout the year . This is one of the finest and ancient temples in this region. Maa Sharvari is the personification of Goddess Durga. The design of this temple is incredibly tremendous and depicts the nice quality of engineering.
04-Jagatsukh Temple 
Jagatsukh Temple is located 7 km from Manali on Naggar road. Built and designed around the early 8th centuryin former capital of Kullu. This temple in the Shikhara Style shape. This temple is bounded by attractive valleys and lofty snow-clad mountains that look even outstanding during the winters.
05-The Gaurishankar Temple

It is 24 kms From Manali. The Gaurishankar temple at Dashal village which is located very close to Naggar on the Naggar-Manali highway road. The main attraction of the temple are its exquisite stone carvings of the late Gupta Period. The shape of the temple is pyramid on an elevated platform with a square shape at the base and dome shape on the top.
06- Vashisht Hot Water Spring.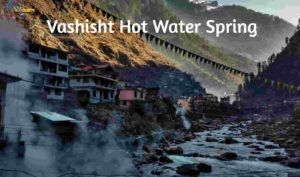 Vashisht Temple is 4 kms northwest of the Manali town.
Vashisht hot springs came across on the way to Solang Valley.This place worth visiting for experiencing a hot spring bath. If you haven't had the whiff of sulphur bath ( which is good for to cure body and bones pain) definitely,here  you will find the odour nauseating, however, a dip within the hotspring water is definitely worth effort to overcome your Freezing Experience.
There are Turkish-style baths offered for guests who wish for privacy.
#Some More Famous Places To Visit in Manali & Its nearby
07- Club House.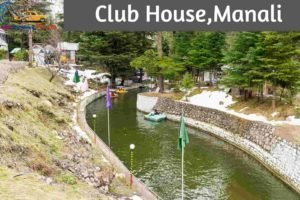 The Club House Manali is in the center of the city near the Mall road. It offers wide-ranging facilities that comprise a roller skating rink, an auditorium, billiards rooms, a library,a bar and a restaurant. This place is one of the most pleasant & favorite attractions in Manali for kids..
08-Solang Valley.
Solang valley is 15 kms  northwest of the Manali town.
This dazzling Snow valley is one of the most picturesque sights in Manali and is located at an average altitude of 2,560 meters above sea level. Solang Valley is famous for hosting various winter adventure sports like skiing, parachuting, paragliding, trekking, etc.
It is one in every of the utmost favorite trekking hotspots for the tourists. Solang natural depression is found between the Solang village and Beas Kund and offers majestic views of glaciers and cover mountain.
09-Jogni Falls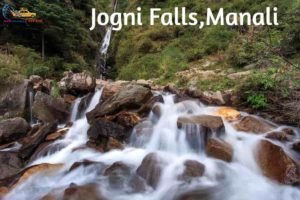 Jogni Falls is 3 kms from Manali town.
Jogni Falls is anattractive waterfall located near Vashisht Village in Himachal Pradesh. The waterfall can be touched by Trekking from Vashisht Temple. It is among general places to visit in Manali and one of the Famous Places to visit in Manali.
10- Rahala Water Falls
Rahala water Fall is 15 km from Manali, 
Rahala Falls comes on the way to Rohtang Pass. This fall is generally believed to be the outcome of melting of Glaciers. It is situated in a very pristine area surrounded by a thick growth of Silver Birch and Deodar. The aroma is sparkling and pervades the senses of all visitors to the place. During Summer, The snow covered exotic Himalayas is a wonderful sight that can be seen from the area around the falls.
11- Kothi Village
Kothi village is one of the most scenic places to visit in Manali. The beautiful valley view is worth watching. It is an ideal site for nature lovers, poets, and painters. It is also known as Koshtampi and has a Temple of Goddess Shuwang Chandika.
12- Nehru Kund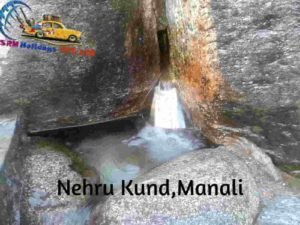 It is about 5 Kms from Manali on the National Highway on the route to Leh.
The journey to the Nehru Kund is a mere 5 kilometres, right from the centre of the Manali town, moving towards Keylong. The tranquility of this environment with running the cold and pristine water will thrill any humans. It was named after Pandit Jawaharlal Nehru, who was used to dranks water from the natural spring when he used to stay in Manali for his visit.
13- Rohtang Pass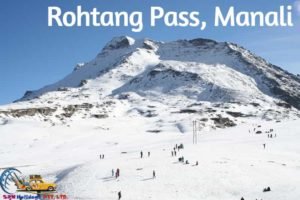 It is 51 Kms from main Manali and it is located on Manali Keylong Highway at an altitude of 4111 meters.
This point is one of the main attraction for tourists coming to Manali. It's a paradise for adventure sports like paragliding, skiing, skating, snow-scooter rides, etc. Rohtang  pass opens for tourist from Aprill end or May first week to October end of the year.
14- Old Manali
Old Manali is 3 kms from new Manali. The uphill 3-kilometre walk takes not more than 20 minutes on an average easily approachable by Foot. It is a lot less filled and has plenty of foreign backpackers and travellers who stay there for weeks if not for months. It is among general places to visit in Manali and one of the Famous Places to visit in Manali.
15 – Gulaba Viewpoint
Due to heavy snow or Rainfall, if you are not able go to Rohtang Pass,then the next best alternative is to go to Gulaba view point.
Gulaba is Located 25 km from Manali. Gulaba is a snow point which is located on the road to Rohtang pass from Manali. The village of Gulaba is flanked by the pictures-que beauty of  grasslands, snow covered mountains looked like someone has spread white sheets all over. There are various stalls foe like for having maggi, coffee and corn.
16- Manali Sanctuary
The Manali wildlife sanctuary is at a walking distance from Manali. It is a ideal spot to explore the rich flora and fauna that the place harbours. The Manali Wildlife Sanctuary is a paradise on Earth for all animal and nature lovers who came here in large numbers of Groups to experience what this heaven appears like.
17- Van Vihar National Park
Van Vihar is a favorite of each tourists yet as locals. This park is very frequented by tourists and it has many tall Deodar trees all around.That provide shade to the whole area. There is also a small and pretty playground for children to play Games.It also has a small lake that is ideal for boating( but somestimes water is not clean.
The park has concrete as well as wooden benches as providing seating arrangements for the strollers and visitors. The beauty is breathtaking and atmosphere is clean and rejuvenating.
18- Tibetan Monasteries
This beautiful place is at a walking distance from the city center and main town.The Tibetan monasteries of Manali are one of the chief tourist's attractions of the region. With a huge number of Tibetan people residing in the area, there are several Buddhist places of worship that have been set up in Manali. 
19- Naggar Castle
It is 21 KM East of Manali and it is situated on Manali Kullu Highway.
Naggar is an ancient town which commands extensive views. Many movies have been shot here. This Ancient castle has been the former capital of Kullu Kingdom. The valley is a nucleus to several trek routes includes Katrain, Raison, Kasol and Naggar.
20- Beas Kund Trek
Beas Kund Trek offers you the possibility to cross mountains and travel the supply of the Beas stream. At the start of its course, it splits into varied streams; a number of that are shaped by the melting of glaciers & alternative tiny tributaries of the parent stream arise from a mesmeric alpine lake.
From Manali, there is a short drive of 12 km to Solang valley will take us to our starting point for Beas Kund Trek. The 3-days Beas Kund Trek originates from Manali, crosses Solang depression, with a stop-over at Dhundi and also the camping site of Bakar Thach, and reaches Beas Kund, the supply of Beas stream.
No trekking expertise is needed, tho' you will need to walk on slippery rocks, makeshift picket planks, and glacial bridges.This trek is appropriate for people of all ages.
21- Arjun Gufa
The Distance From Manali is approx – 7 kms located near Prini Village
The Arjun Gufa is one of the most interesting tourist spots in the whole of Manali. It was named by Arjun from Mahabharat who meditated here to attain success and acquired The Pashupata Ashtra from Lord Indra. Arjun Gufa is the best and finest place to enjoy awesome views of the snow-capped Himalayan ranges and the surrounding covered with Alpine forests. Approximately at 2 km a Kunti Mata Temple and visible lake called Kunt Bhayo lake is located.
22- Hampta Pass Trek
The 6-days trek to Hampta Pass passes through the lush green of Kullu Valley.
Hampta Pass trek can be perfect for you to see the beautiful snow -caped mountains.This Trek was derived from name of Hamta Village,located below Sethan village. Hampta pass trek links two beautiful valleys i.e On one side of the pass lies the lush green Kullu valley with cold desert Lahaul Spiti valley.
The trek route is Prini village Manali > Sethan > Chikka > Balu ka Ghera > Hampta pass > Sheagoru > Chhatru spiti. where one gets to see numerous ever-changing Landscapes.One of the uttermost trek,offers almost everything that one wishes to see on a Himalayan trek.
23- Jana Falls
This waterfall is located around 30 kms from Manali and 14 kms from Naggar village.
Jana Fall is Surrounded by spectacular snow-covered mountain peaks and deodar trees, pine trees, apple orchards .This fall is a charming picnic spot. It will give a tranquil experience to the visitors. It Is Famous for red rice and sidu which will be available on a very famous Dhaba named: Man-Ram-Dhaba.
24- Bhrigu Lake
Bhrigu Lake is a lake located around 4 kms metres from Kullu district, Himachal Pradesh. Bhirgu lake is located in between the mountains of Manali and Rohtang pass & 6 kilometres from Gulaba Village. The lake is at a great height which would induce everyone to fall in love with it.
25. Deo Tibba Trek
Deo Tibba trek is situated in the Pir Panjal Range of mountains where you can have awesome view of Dhauladhar Range from the peak.
It is located at distance of 35 kms from Manali and 30 kms above from Jagatsukh Village. This trek usually take 6 days to complete. Deo Tibba Trek starts from Manali and crosses ancient villages through the lush green oak & deodar forested trails, passing through undulating meadows and pastures of the Gaddi Shepherds to the base camp of Tenta.
Deo Tibba trek route is : starts from Manali >Khanol Village > Chikka > Sori > Tenta> Mini Chandratal >Tainta> Chika> khanol Village> Manali ends.
26. Parvati Valley
Parvati Valley is situated in Kullu District near Kasol and Manikaran. The Gushing Parvati River running eastwards, through a steep-sided valley from the town of Bhuntar. The lush green meadows of valley, river, oak trees, palm trees everything to make abundant in natural scenery.
Parvati valley reflects a  beautiful views of Pir Panjal Range. Trekkers can undertake numerous treks like, Sarpass Treek, Kheerganga Trek, Tosh Trek, the Pin Parvati Pass Trek, Manali Chanderkhani Pass Trek, Pulga, Tulga, Kalga, and Naggar to Manali Snow Trek. All trekkers with a fit body can undertake these treks.
More Related Tour Packages
More Delhi to Manali Taxi & Tour Packages