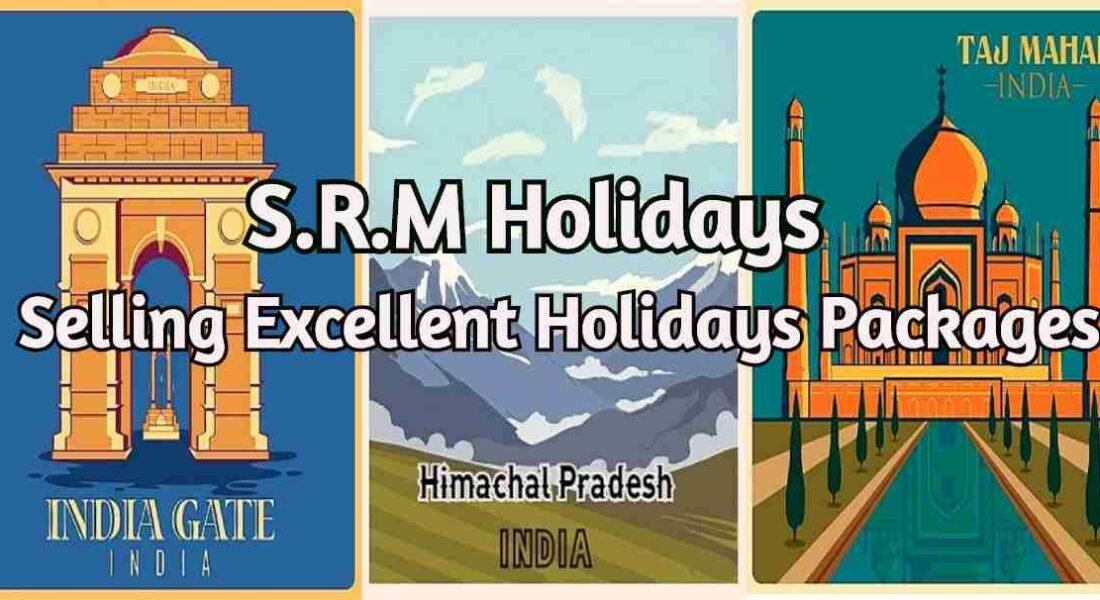 (Your price Your place)
SRM Holidays Private Limited is a domestic Tours and Travel Agency in Delhi. Established in 2016, we started the best travel agency in Delhi for travel solutions named 'Shreeram Holidays'.Our mission is to give India a new and organic image. Our agency is now one of the top service providers of Tour and Travel Agencies in Delhi due to our commitment to our clients. We have been in the business for almost 7 years and have connected with over 20,000 clients worldwide, including Russia, Spain, Mexico, Australia, Dubai, the USA, the UK, Singapore, and many more. Our clients appreciate our work and continue to stay connected to us for the latest offers. Our founder, Mr. Singh, started the company in 2016. We upgraded ourselves to online service providers in 2018, after 7 years of offline experience in tour planning and holiday packages customization. Currently, we are offering – Golden Triangle Tour Packages, Same Day Agra Tour From Delhi, Delhi Sightseeing Tour Packages, Delhi to Agra Tour packages, Taj Mahal Tours From Delhi, as well as Rajasthan Tours packages, With Other Hill Stations Tours like Uttarakhand Tour Packages & Himachal Tour Packages from Delhi.
Our Travel Company provides you with qualitative traveling services, lodging services (Hotel bookings), and multi-language Tour guides per your requirements. The unique features are as follows :
Ease of bookings with a

Hustle-free journey.

24×7 customer service (via inquiry forms, telephonic services, and even personal visits are equally entertained )

Availability of customized Holidays and tour Packages at your convenience.

Owned cabs & Tempo Traveller services

In the case of outsourcing, we have verified & registered cabs & Tempo vendors only to ensure customer security

24×7 availability of backup cabs to avoid delayed or interrupted journeys.
Why is SRM Holidays Private Limited the best Travel Agency in Delhi?
Explore
Holidays & Tour Packages by SRM Holidays Private Limited
Delhi Sightseeing Tour is your ultimate guide for the whole of Delhi. Our Delhi local Tour Packages practically offer a glimpse of each and every Famous market place Whether it is food or things to shop for, the city has brilliant tours of archaeological sites with the heritage Delhi Walk.
Seeking out Jaipur Tourism Package with Famous exotic monuments, showcasing a perfect blend of history and modernity. Discover the jewels of Jaipur. Jaipur, the capital city of Rajasthan(the desert State) is a blend of ancient and modern as it has the Amer region and the Pink City.
Have one day reserved & Planning To visit the Taj Mahal Tour From Delhi? Get the opportunity to unveil the comprehensive sites of the Taj Mahal, Agra Fort, and Fatehpur Sikri in our Day Private Guided Taj Mahal Tour from Delhi.
We offer the top 10 The Golden Triangle Tour by car starting from Delhi. These tours are for 2 to 8 days and take you to some of the most beautiful destinations in the cities of Delhi, Jaipur, Agra, Amritsar, Jodhpur, Ajmer, Pushkar, Ranthambore, Jodhpur & Udaipur. etc
Rajasthan is rich in culture with its slogan 'Padharo Mahare Desh'.We are offering ultimate holidays in Rajasthan by a road trip with our assured cab services to explore Jaipur, Jodhpur, Udaipur, Chittorgarh, Bikaner, Jaisalmer, Ranthambore National Park with Agra & Delhi.
Explore Complete Jaisalmer Tourism including sightseeing, Accommodation, Hotels & camps stays with Desert Safari tours. Explore Jaisalmer Tourism with our dedicated team of professionals and network travel agency offices all over Rajasthan
Wondering about visiting the beautiful "City of Lakes" Udaipur City Tour? Then Enjoy a luxurious and relaxing vacation with our Udaipur tour packages. Udaipur sightseeing package covers historical & brilliant tourist archaeological sites of Udaipur.
If you are looking for a memorable tour of Gujarat From Ahmedabad covering Dwaraka, Somnath, Gir, Kutch, Vadodra, Statue Of Unity, etc. You Can Book our customized Gujarat Holidays & Tour packages with exciting deals & offers. Our dedicated team of professionals will provide prompt and well-coordinated Services.
We offer the Top 10 Himachal Tours Packages starting from Delhi. These tours are From 3 to 9 days and take you to some of the most beautiful destinations from Delhi to Shimla, Manali, Kullu, Kasol, Dharmshala, Dalhousie, Amritsar, etc.
Plan to visit the Shimla Manali Tour Packages which is – Covering Shimla, Kufri Manali, Kullu, Kasol, and Manikaran Tour along with other Famous Hill stations like- Amritsar, Dharmshala, Dalhousie, Kajjiar, Macleodganj, etc.
We are offering 9 Uttarakhand Tours starting from Delhi. These tours Start from 3 to 9 days and take you to some of the most exciting destinations in the cities of Delhi, Haridwar, Rishikesh, Corbett, Nainital, Bhimtal, Kainchi Dham, Mussoorie, Ranikhet, Kausani, Almora, Binsar,  etc.
This Travel Guide will give you complete information about Delhi, Agra, Jaipur, Jodhpur, Udaipur, Jaisalmer, etc and Many More Cities along with a tour guide.
If you are planning to hire a tempo traveler for local or outstation tours, then we offer the best new models of Tempo Traveller
What preventative measures we are taking against Covid-19 Before Travel?

Temperature checking and regular screening are carried out for Hotel Staff, Guests, Drivers, and Guides.


More Tour Packages Adding Soon
We're reaching new milestones and we appreciate the continued support from everyone!