Delhi Agra Mathura Vrindavan Tour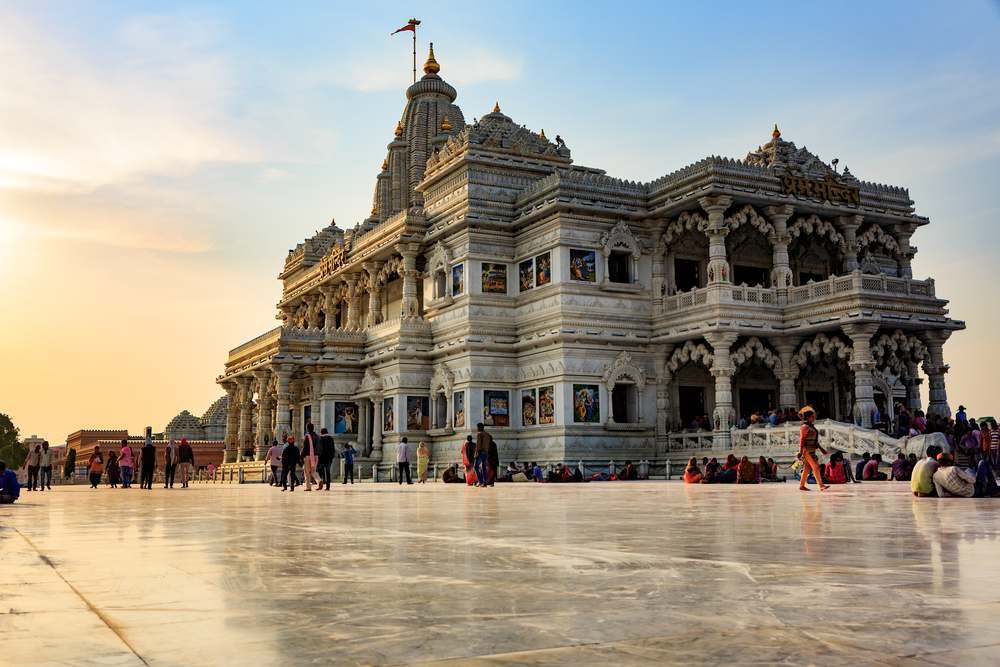 Delhi Agra Mathura Vrindavan Tour
Have one day reserved & Still Planning To visit the Taj Mahal tour with Mathura & Vrindavan? Book Delhi Agra Mathura Vrindavan Trip from Delhi by car and visit temples and monuments of Mathura, Vrindavan, and Agra.
+ Point: An Experienced Multi-Language Tour guide (English, Spanish, German, French, etc) will give you a personalized experience and tell you interesting stories about the historically brilliant architectural sites.
Duration: 14-15 Hours
Destinations Covered: Delhi – Agra & Mathura Vrindavan – Delhi (Same day return).
Main Attraction: Taj Mahal, Agra Fort, Krishna Janmabhoomi, Banke Bihari temple, Prem Mandir.
Shopping: You can shop for paintings and hand-made items.
Note: Taj Mahal Remains Closed on Friday

♥Tour Cost Inclusions

♥

:
✅Pick up in an AC cab from Any Hotel/Airport/Station in the morning/Drop to Hotel at Night.
✅All Transfers and Agra Sightseeing throughout the tour by private Air Conditioned & Sanitized vehicle with English Speaking Driver.
✅Services of qualified English Speaking Tour Guides for The Taj Mahal tour.
♣Tour Cost Exclusions

♣

:
❌ Any kind of Personal Expenses such as Monument Tips, Meals, etc.
❌ All Monuments Entrance Tickets fee for Foreign/NRI Visitors that includes Taj Mahal, Agra Fort, Mehtab Bagh (Sunset Point).
❌ Camera Fees (Still or Movie).
❌ Tips & Gratuity to guide & driver.
Delhi Agra Mathura Vrindavan Tour
Tour Itinerary
Delhi Agra Mathura Vrindavan Tour
Suggested Time to Start at 5-8 a.m
Delhi Agra Mathura Vrindavan Tour starts at early in the morning and ends at the same place in the evening, after covering some of the most remarkable monuments in the city of Agra. The detailed itinerary of the Same Day Delhi Agra Mathura Vrindavan Tour goes as listed below :
Note: This tour can be planned directly from the Railway station, Airport, Hotel, or Residence.
---
🕕 05:00 -06:00 A.M – Pick up from Delhi ( Anywhere in NCR):
Our driver shall reach your hotel/residence in Delhi and pick you up from there. We will drive towards Agra in a comfortable car. Complete the 240km distance in less than 4 hours on Yamuna Expressway. Upon arrival to Agra, the journey starts right away with a visit to The Taj Mahal Tour.
---
🕙

 10:00 A.M – Private Guided Tour of The Taj Mahal:
Our first destination in Agra is none other than the splendid Taj Mahal, the Symbol of Love, and the Seventh Wonder of the World. Built by Mughal Emperor Shah Jahan in memory of his wife Mumtaj Mahal, the Taj Mahal stands proudly on the banks of the river Yamuna, attracting millions of tourists every single year.
Our Agra Tour Guide will guide you and tell you interesting facts and features of the Taj Mahal such as :
Taj Mahal India

History Of Taj Mahal

Taj Design & Layout

Getting to the Taj Mahal

Taj Mahotsava

Taj Mahal main mausoleum
Spend some time at this place appreciating the beauty of the monument and the love of the emperor before heading towards Your next destination, the Agra Fort.
---
🕐

12:00 P.M – Guided Tour of Agra Fort :
A massive fort and the pride of the Mughal Empire, Agra Fort has remained one of the most powerful forts in India. It was sometimes the capital of the Mughal Empire and has also served as the royal residence.
Get to Know About the Monuments within the Agra fort :
Jahangiri Mahal (Jahangir's Palace)

Khas Mahal

Musamman Burj (an octagonal tower)

Diwan-I-Khas (hall of private audience)

Diwan-I-Aam (hall of public audience )
One special thing to note about Agra Fort – it is the same place where Mughal Emperor Aurangzeb imprisoned his father Shah Jahan (the creator of the Taj Mahal) till his last day.
---
🕝

02:30 P.M – Lunch:- Taste Agra Cusine:
Enter a lavish restaurant to enjoy a delicious lunch. Agra is equally famous for its delicious food as it is for remarkable monuments. Enjoy your lunch while discussing your journey so far. You are allowed to rest for some time before resuming your journey.
Some Best Lunch Places in Agra
Pinch of Spice
Salt Cafe 
Chicken Mama Franky
Panchi Petha Store
Pind Balluchi at Taj Ganj.
---
🕞 03:30 P.M– Shopping and Explore Agra's Local Market:
With a visit to Mehtab Bagh and later doing some Shopping in Agra local Markets its precious and semi-precious stones are crafted into desirable gemstone Jewellery. Surrounded by chic boutiques, classy leather things, culturally designed clothing, and Marble Markets: among the list of many admired shops. 
---
🕔 05:00 P.M– Agra to Mathura/ Vrindavan
Agra to Mathura is a 1-hour drive. In Mathura visit Krishna Janmabhoomi: which marks the original spot of the birth of Lord Krishna in the Katra Keshav Deo Temple. The prison cell is turned into the present beautiful temple, lakhs of devotees throng the temple during Janmashtami, every year.
You will get to know a lot abou

t Krishna's childhood

, and life, as you explore Vrindavan and get immersed in its devotion.

Visit the

Banke Bihari temple

, which is named after the greatest devotee of Krishna, and experience the divinity of this sacred place.

Next, visit the oldest temple in the area, the

Madan Mohan Temple;

the beautifully designed and significant, Radha Raman Temple; and the ISKCON temple.
Also, visit the "temple of God's love", Prem Mandir, and cherish the intricate carvings and delightful architecture of the temple.
---
🕡 07:30 P.M – Departure- Drive back To Delhi :
Afterward, in the evening Your Delhi Agra Mathura Vrindavan Tour ends here. Ride into the car and drive towards Delhi. Upon arrival, our driver will drop you at your hotel.
Delhi Agra Mathura Vrindavan Tour
Fare Per Cab
AC Prime Sedan Car      –     INR 7000 or

$99

for 1-4 pax
AC SUV 7 Seater Car     –     INR 8500 or $125 for 4-6 pax
AC Toyota Innova Car   –     INR 9500 or $136 for 4-7 pax
AC Tempo Traveller       –     INR 17,000 or $248 for 7-12 pax
Contact Us To Book the Tour
Sunrise Taj Mahal Tour From Delhi
Wondering to visit the Taj Mahal at the time of Sunrise to witness the beauty lying on White stones.  Plan Sunrise Taj Mahal Sunrise for those who simply wish to explore the beauty of the Taj Mahal in the early morning.
🕙 Duration: – 14 hours
🚖 AC Cab Included
🤵 Tour Guide  Included
🏃 Skip the ticket line
Fare Start From INR.1750 or $74 per person
Taj Mahal Tour with Fatehpur Sikri
You will be Exploring the Most Prominent Tourist sites of Agra i.e. Taj Mahal, Agra Fort, Akbar's Tomb, Bric-a-Brac Markets, Mehtab Bagh, along with Fatehpur Sikri with Our own cabs And Experienced driver.
🕙 Duration: – 14 hours
🚖 AC Cab Included
🤵 Tour Guide  Included
🏃 Skip the ticket line
Fare Start From INR.1950 or $85 per person
Agra City Sightseeing Tour 
If You Reach directly to Agra City, Then a Plan a City Sightseeing tour of Agra practically offers a glimpse of each and every Famous Tourists place. Whether it is food or things to shop for, the city has no dearth of variety.
🕙 Duration: – 10 hours
🚖 AC Cab Included
🤵 Tour Guide  Included
🏃 Skip the ticket line
Fare Start From INR.650 or $40 per person
Agra Tourists Places Timings and Entry Fare
| Monuments Name | Visiting Time | Fare for Indians | Fare for Foreigners |
| --- | --- | --- | --- |
| Taj Mahal | 6:00 A.M To 6:00 P.M | Rs 250 | Rs 1200 |
| Agra Fort | 6:00 A.M To 6:00 P.M | Rs 40 | Rs 550 |
| It-mad-ud-daula | 6:00 A.M To 6:00 P.M | Rs 30 | Rs 310 |
| Mehtab Bagh | 6:00 A.M To 6:00 P.M | Free | Free |
| Akabar's Tomb | 6:00 A.M To 6:00 P.M | Rs 15 | Rs 110 |
| Dayal Bagh | 4:00 A.M To 7:00 P.M | Free | Free |
| Fatehpur Sikri | 6:00 A.M To 6:00 P.M | Rs 40 | Rs 550 |
| Bharatpur Bird Scantuary | 6:00 A.M To 6:00 P.M | Rs 40 | Rs 400 |
| Chini-Ka-Rauza (China Tomb) | 9:00 A.M To 5:00 P.M | Free | Free |
2 Days Delhi Agra Tour Package
Cab+ Hotel Package Fare Per 2 Pax
Budget Hotel    –     INR 11000 per 2 pax
3 Star Hotel      –     INR 12500 per 2 pax
4 Star Hotel      –     INR 14000 per 2 pax
5 Star Hotel      –     INR 16000 per 2 pax
Only Cab Fare for 2 Days Delhi Agra Tour package:
Rs 9000 for Sedan Car ( 1-4 pax)
Rs 11000 for Toyota Innova (1-6 Pax)
Rs 13000 for  Innova Crysta (1-6 Pax)
Rs 15000 for Tempo Traveller (1-16 Pax)
3 Days Delhi Agra Tour Package
Cab+ Hotel Package Fare Per 2 Pax
Budget Hotel    –     INR 15500 per 2 pax
3 Star Hotel      –     INR 18000 per 2 pax
4 Star Hotel      –     INR 21000 per 2 pax
5 Star Hotel      –     INR 27000 per 2 pax
Only Cab Fare for 3 Days Delhi Agra Tour package:
Rs 11500 for Sedan Car ( 1-4 pax)
Rs 14000 for Toyota Innova (1-6 Pax)
Rs 17000 for  Innova Crysta (1-6 Pax)
Rs 22000 for Tempo Traveller (1-16 Pax)