Manali Adventure Activities
Manali Adventure Sports
Manali Adventure Activities & Sports
SRM Holidays is offering Manali Adventure Tourism along with its associates arrange the finest in adventure sports. All our adventure sports staff is well trained and has many years of experience in leading adventure activities in the region. Our outdoor sports activities include River Rafting, Paragliding, Skiing, Snowboarding, Fishing, Horse Safari, Ballooning, and Rappelling.
Get best Honeymoon deals, group deals, educational & corporate deals, adventure activities, transportation services  Adventure. "It is Better To See Something once than to hear about it a thousand Time".
Manali Sports & Adventure Package
BY SRM HOLIDAYS PVT LTD
 River Rafting – At Beas River
For those who wish to conquer the hard currents of water, river rafting in Manali is a must. This is amongst the most loved adventure activities in Manali.
Tour Details

:
Adventure Level: Moderate. It can be difficult too, depending on the current and weather conditions.
Best Time To Try: Summers, specifically June
Where To Try: Pirdi to Jhidi
Tip: Make sure you listen to your guides closely.
Paragliding – Bird's Eye View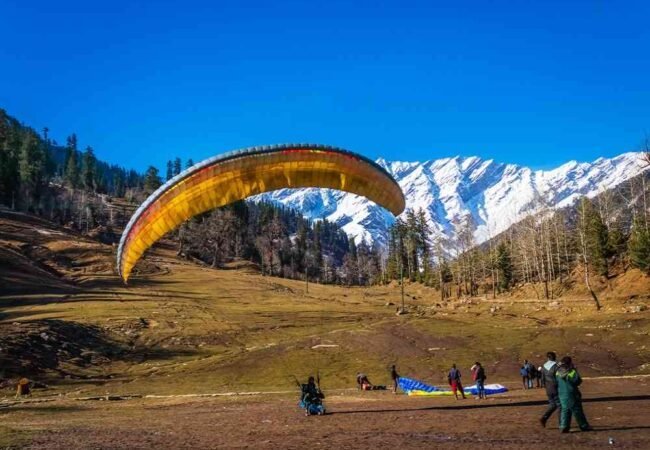 Get ready to witness majestic views of Dhauladhar Ranges and the entire stunning Beas River Valley while flying over this quiet land & feel the cool breeze while you fly in the tranquil surroundings.
Tour Details

:
Adventure Level: High
Best Time To Try: April to December (Only on a clear sunny day)
Where To Try: Solang Valley, Phatru, Solang, Gulaba, Marhi
Tip: Wear clothes that are really comfortable.
Skiing – Play Around The Snow
Enjoy your snowy rendezvous with skiing, at the famous Solang Valley near Manali. One of the most sought-after adventure sports in Manali
Tour Details

:
Adventure Level: Moderate
Best Time To Try: January and February
Where To Try: Solang Valley, Rohtang, Marhi, Gulaba and Dhundi
Tip: If it's sunny, wear sunglasses. If it's cloudy, wear goggles.
 Zorbing – Zorbed in Gaint Ball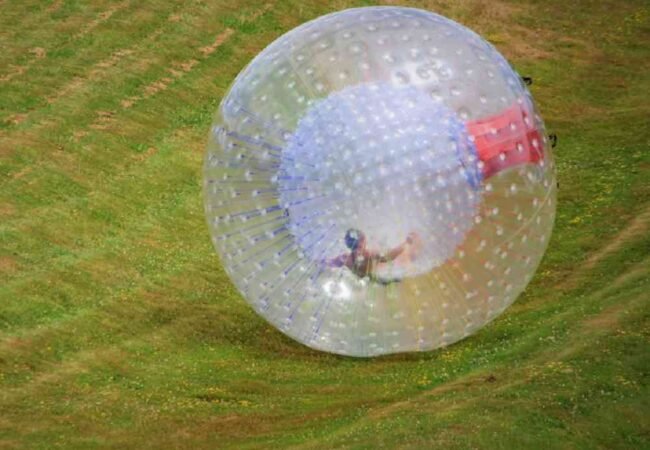 Another Manali adventure sports — Zorbing — will provide you a view of a world turned upside down.  So get ready to be Zorbed, wrapped inside a giant rolling ball, while you indulge in Zorbing in Manali and defamiliarize the familiar.
Tour Details

:
Adventure Level: Easy to moderate
Best Time To Try: January to May; October to December:
Where To Try: Solang Valley
Tip: Make sure you control the zorbing ball.
River Crossing – Challenge Your Fears
One of the activities in Manali that is available throughout the year but monsoons is river crossing. The different streams of water present in Manali helps in this sport. It can be quite challenging as one has to cross a river hanging from a rope.
Tour Details

:
Adventure Level: Easy to Moderate
Best Time To Try: Throughout the year, except monsoon
Where To Try: Van Vihar, Solang Valley
Tip: Leave your boots on when going for river crossing.
Snow Scooter – Skid Through The Snow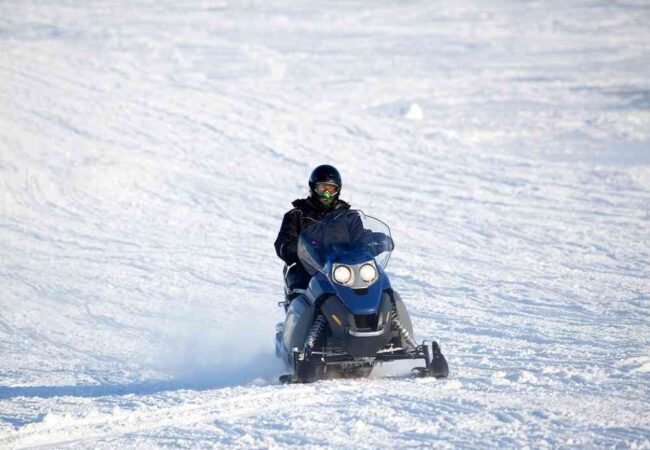 One of the fun adventure sports in Manali is the snow scooter. This sport has gained quite some popularity and is loved by tourists. These scooters can go upto 2 km and offer one a fun ride. One can either ride their own scooter or have an instructor along to drive while they enjoy the ride.
Tour Details

:
Adventure Level: Easy to Moderate
Best Time To Try: December to February
Where To Try: Solang Valley, Rohtang Pass
Tip: Wear warm clothes that are also waterproof.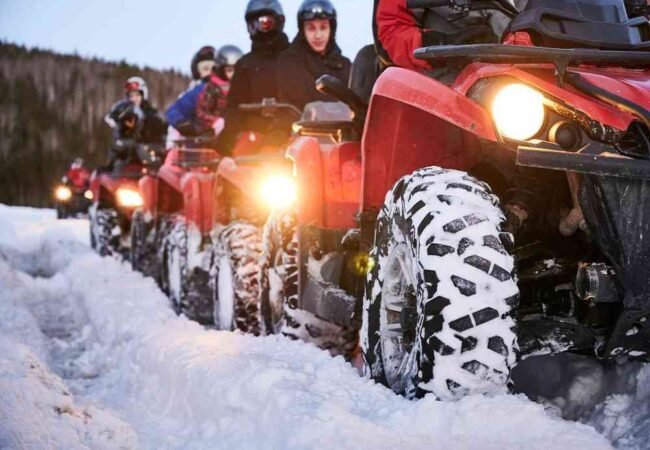 Another one of the thrilling activities in Manali for adventure seekers is quad biking. One can ride across various terrains on an ATV or a quad bike and explore the dense forests around Manali.
Tour Details

:
Adventure Level: Moderate
Best Time To Try: throughout the year
Where To Try: River Beas, Rocky River Trail, Kiwi Trail
Tip: Always have a helmet on your head when biking.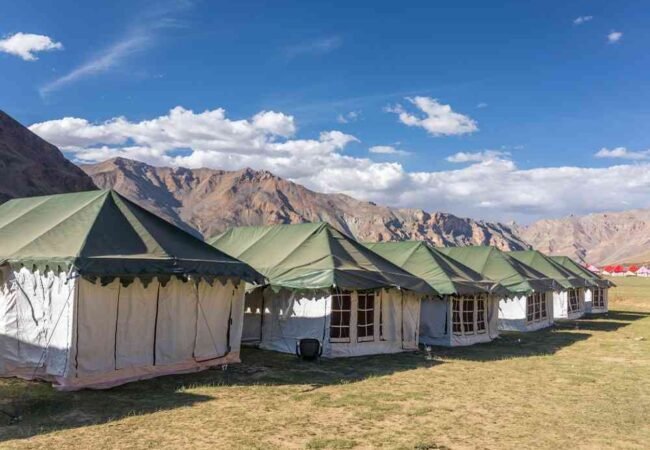 A sport that appeals to every thrill and adventure seeker is definitely camping in Manali. Just imaging reaching the summit, chilly winds brushing your skin, sipping on hot cocoa, sitting around a group of friends, and just laughing, singing all night long.
Tour Details

:
Adventure Level: Easy to Moderate
Best Time To Try: May to June
Where To Try: Sethan, Solang Valley, Bhuntar
Tip: Have a mosquito repellent ready.
Bungee Jumping is an adventure sport that one can try out 5 kilometers from Manali, in Bahang. Just imagine leaping into nothingness, with a massive bundle of green trees down below, forming your view of several hundred shades.
Tour Details

:
Adventure Level: Moderate
Best Time To Try: January to March
Where To Try: Bahang
Tip: Avoid overthinking when you are just about to jump.
Trekking – Conquer Those Mountains   
Trekking is one of the most thrilling sports to try out anywhere. Manali is one destination in the country that never fails to impress in this context.  The innumerable trekking trails that Manali has to offer is extraordinary.
Tour Details

:
Adventure Level: Moderate to difficult
Best Time To Try: May and June
Where To Try: Chandrashila Trek, Tosh Valley Trek, and Kheerganga Trek
Tips: Make sure you carry a light backpack while trekking.
Rappelling – Climb Down A Rock
Best experience that one can try in Manali is rappelling. Like rock climbing is going upwards, rappelling is when one is tied with a rope and a harness in order to give them support for climbing down a rock that is steep and broad.
Tour Details

:
Adventure Level: Moderate to difficult
Best Time To Try: All year round
Where To Try: Solang Valley, Rohtang, and River Beas
Tip: Make sure you have a tight grip on rope and the harness.
Ziplining – Swish Through The Jungles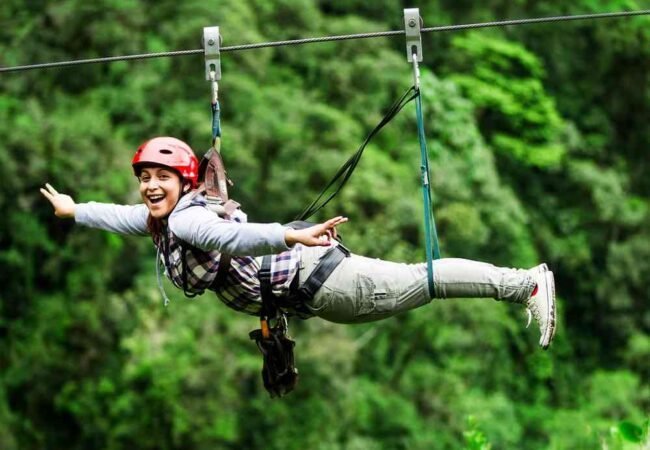 ? Manali gives one a chance to cross along the hills and forests with a rope tied on the waist, at a speed that one can only imagine. There are professionals available every spot in order to carry out this thrilling sport without any hindrances. Zipline is one of the most adrenaline rushing and heart pumping adventure sports that one tends to fall in love with.
Tour Details

:
Adventure Level: Moderate
Best Time To Try: May and June
Where To Try: Solang Valley and Haripur
Tip: Wear comfortable clothes. Avoid skirts and dresses.
3 Days Manali Adventure Tour Package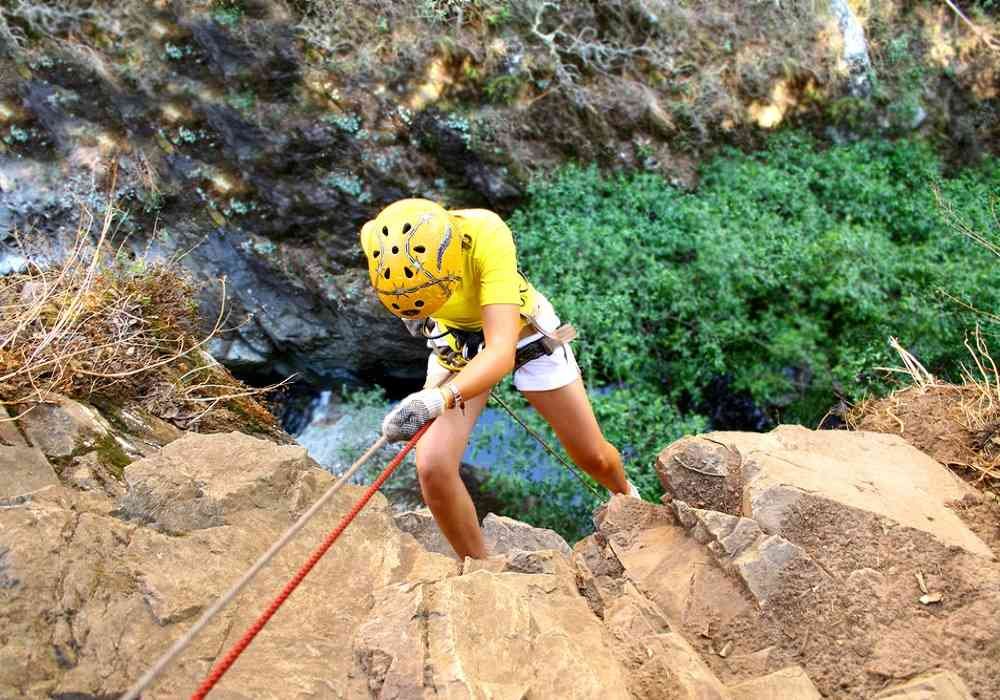 Day 01: ROCK CLIMBING AND RAPPELLING
Type of rock climbing:
Natural or Free climbing: When climber climb's a rock without the help of any required equipment using natural hold called natural rock climbing
Artificial climbing: During the climbing, if the climber found that rock is difficult in that case he required technical equipment, therefore climbing a rock with the help of technical equipment is called artificial climbing.
Rappelling: When the rock face is difficult to climb down due to steepness, wetness, or some other reason, rappelling is the best way to climb down. rappelling or abseiling or roping down as it is most commonly called, is a quick method of descending over a steep face of the rock, snow, or ice by sliding down a fixed single or double rope anchored on top.
Day 02: TREK TO JOGNI FALL AND VASHISHT. (PACK LUNCH)
Today proceed for a day hike of Joghi Fall through some Villages and green fields and Pine forests spend some time at Jogni Fall and later walk down till to Vashisht village. There is a famous for hot water Sulpher and visit Vashisht temple of a saint (Vashisht rishi) and Lord Rama, one can have a dip in hot Sulpher water which is recommended for skin disease, after the walk back through Bahang via Goshal village to the campsite. Overnight at camp.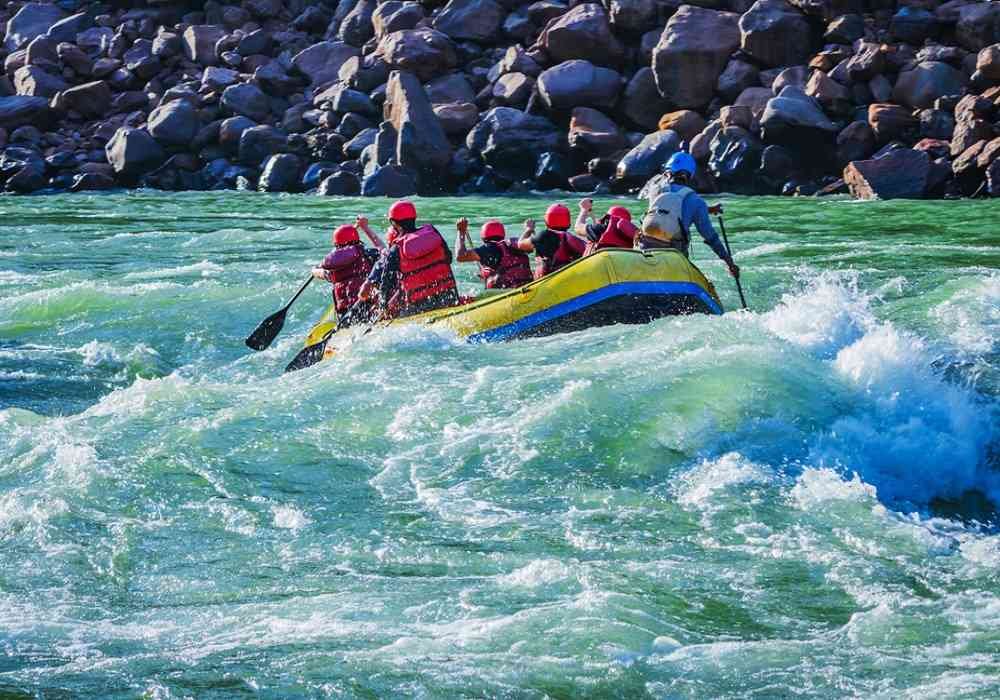 Day 03: RIVER CROSSING AND RIVER RAFTING.
River crossing ( Tyrolean traverse technique) While trekking in a mountain, one has to cross several streams, To cross these streams one should have good knowledge that how to cross the mountain stream? Crossing these streams/rivers with technique and full safety called the river. Afternoon visit to Mall Road Manali.
Here is the end of Manali Adventure tour Package.
AGE LIMIT
Since adventure activity requires physical & mental strength & endurance, the age limit is restricted to 15 to 45 years.
---
ARRANGEMENTS
All arrangements are made & programs conducted by & under guidance, of well trained, experienced, polite & courteous staff. The project organizer himself is a young expert mountaineer who is experienced in Mountaineering Basic, Advance, Method of Instruction, Mountain rescue training, trekking/tourist guide, snow skiing & water sports courses. He has also worked as visiting Instructor in the Directorate of Mountaineering & allied sports Manali.
---
CO-OPERATION & RECIPROCATION
Your holidays with us will be especially rewarding if you are ready to withstand the rigors of high adventure & cooperate with us at every step. We reciprocate your cooperation with our round–the–clock courteous, polite service & daredevil concern for you.
---
PRICES & RESERVATION
We believe in quality & not quantity. An adventure enthusiast's satisfaction is our motto. The prices for various adventure activities offered are reasonable &, of course, depend on the numeral strength of the participating group, area of activity/choice of the area by group & the type of activity undertaken. The prices include accommodation, equipment, porterage, cartage, carriage, food & services of experienced staff/guide, etc. Not profit but fulfilling your desire for adventure is our motto.
---
ACCOMMODATIONS
Participants are provided with accommodation in dormitories and rooms in Manali & in tents in the field. The accommodation in hotel rooms is to be charged extra. The amenities will be commensurate with the charges for accommodation selected & provided.
---
CHARGES
The rates are changeable from time to time subject to the market prices & will be final at the time of confirmation of booking. On special grounds, rates can be reduced. The charges/fee is to be remitted through Bank Draft drawn or deposit online account on State Bank of India, Manali in favors of Sh. Yogesh Kumar Thakur Aleo, New Manali (H. P.) India. 50% advance payment is required 20 days prior to the commencement of the particular activity for making the arrangements & for confirming the booking/reservation. Failing which booking is canceled & chance will be given to the next in the booking list.
Booking is done on a first-come-first-served basis. Should the group/individual want to cancel the program then a refund of fees received will be made after deducting such amount as might have been spent on making the arrangements by the organizers. No refund of fees/charges will be made if the group/individual leaves the program uncompleted or return back from the area of activity on its/his/her own sweet will.
---
DISCIPLINE
It is in your (& ours also, for that matter) interest that you observe & maintain perfect discipline while participating in any program/activity. The team in charge/group leader will be responsible for the discipline of the group & individual participant for himself. Any group or individual found guilty of creating disturbance, indiscipline, using alcohol or narcotic drugs & obstructing smooth conducting of the program will be sent & no refund of charges will be made.
---
RISK
It is presumed that each participant/group participates in adventure activity organized by us at his/her own risk. The organization which takes due care of the safety of the participants will not be responsible for any mishap/accident, whatsoever, in the area of activity/program & none of its staff members can be held responsible. An undertaking to this effect/risk certificate will have to be furnished by the participating individual/group to the organizers.
---
INSURANCE  
Persons participating in our program must be adequately insured.
---
MEDICAL COVER
Persons participating in our program must arrange for their medical care themselves.
---
MEDICAL FITNESS
Participating individuals must be medically fit to undertake the adventure activity planned for himself/themselves. A fitness certificate from an MBBS doctor is compulsory.
---
AREA OF OPERATION / ACTIVITY
The programs/activities offered by the National Adventure Tourism are organized & conducted throughout the state of Himachal Pradesh on special request. But the program printed in the booklet/ pamphlet/itinerary issued by the organization is organized & conducted at & around Manali in a radius of about 50 kms.
---
DISPUTES
Disputes arising, if any, will be subject to the legal jurisdiction of courts at Manali.
---
Notwithstanding the detail given above, we are there to help you by all means in fulfilling your long-cherished desire for adventure.
You can ask our Tour Manager, Mr.Singh, at +917017392722 for more Information or fill this contact form.