Elephant Safari In Jaipur
Elephant Safari & Ride in Jaipur
Interested in visiting Jaipur's Elephant Village Tour? Make your Jaipur holidays a special one with this incredible Elephant safari in Jaipur. You Can Plan a day tour with Elephants in (Hathi Gaon) Jaipur, Here you all set to enjoy the many activities with elephants like Washing & Scrubbing, Feeding to make them yours, Elephant Safari, painting them & Cooking Food for them. Elephant ride, which is an adventure and exciting thing to do was once a symbol of royalty.
So if you are looking for that royal ride on a real elephant – adventures, and enjoyment. Then you need to take a simple step. Visit Elephant Safari in Jaipur and you will get a package of interesting Elephant Safari tours. You can get near touch with the life of the huge and magnificent creatures and be close to them to become their friends.
SRM Holidays offers Various types of Activities with the elephant in Jaipur, Have a Look:-
1- Elephant Safari & Ride at Amber Fort, Jaipur


2-Elephant Village Tour


3- Elephant Decoration On Weddings
Jaipur Sightseeing Tour Packages
AMER FORT → NAHARGARH FORT → Jaigarh Fort → JAL MAHAL → Galta Monkey Temple → ALBERT HALL MUSEUM → Royal Gaitor →BIRLA TEMPLE → HAWA MAHAL → CITY PALACE → JANTAR MANTAR→ PINK CITY MARKETS
FAQ's Regarding Jaipur City Tour
Get Some Travel Tips
Q.1- What is the famous food of Jaipur with Destination ?
Ans: Some of the popular dishes of  Jaipur include:
Dal-Bati-Churma
Ghevar Gatte Ki Sabji
Rajasthani Thali at Chokhi Dhani.
Laal Maans at Handi.
Lassi at Lassiwala.
Daal Baluchi at Baluchi Restaurant.
Pyaz Kachori at Rawat.
Chicken Lollipop at Niro's. Hibiscus Ice,
Tea at Tapri,
Mava Kachori,
Jaipuri Chicken
Q.2. What is Jaipur famous for ?
Ans : Jaipur is famous for
Lacquered bangles
Pink City Markets
Heritage Havelis
Forts and Museum
Textiles & Carpets
Camel Rides at Amber Fort
Rajasthani Jewellery
Paintings
Q.3 Best time to be in Jaipur ??
Ans: The Best time to visit  Jaipur starts from September to March are perfect for those who are looking forward to making their Holidays Great! October to February is also the peak season to visit Jaipur as during this time one can enjoy a Tour of Forts and Havelis without facing the blazing sun.
Q.4- What is the best way to reach Jaipur ?
Ans : 3 Best Way to reach Jaipur
By Air:

Jaipur is well connected by

Air transport to the rest of India.

By Train:

Indian Railways connects Jaipur with other cities of India with a number of trains.

By Road: Jaipur

is connected by Both Delhi and Agra at equidistant i.e. approx 250 kms.

The best way is to

book either

Agra to Jaipur Taxi or  Delhi to Jaipur Taxi for one way or a round trip and enjoy the entire trip with your family or friends. In other cases, taking a Volvo or state-run buses can also be convenient.
Q.5- How & Where to Start Jaipur Tour ?
Ans : The tour can be planned directly from the Railway station, Airport or Hotel, or Residence. 
Q.6- How does one greet the locals ?
Ans: Khamma Ghani Sa is usually said to wish Good Morning or hello in Jaipur. Whereas goodbye is Padhaaro Sa.
Elephant Village Tour in Jaipur
by SRM Holidays Private Limited
Riding
Enjoy the riding tour on Elephant through the areas surrounding our Farmhouse. Spent your time riding on Elephant and enjoying nature around you. In this package, we provide you an elephant for riding with our trained Mahout who guides you with your riding and makes your ride amazing.
Painting
Learn how to create a painting on an Elephant. Take on the brushes and colors and show the hidden painter inside you. And if you are not a great painter, don't worry we will help you to make your painting great. Painting is also a great art so don't miss it. Elephants will also love it. Move your steps forward to do friendship with Elephants.
We use 100% natural colors which are completely non-toxic and harmless. So don't worry about elephants, nothing will harm them.
Washing
Ever imagine bathing with an Elephant. If not, then just do it. Play with Elephants and give them a shower. Elephants will love it, and make your trip more memorable.
Bathing in the swimming pool with an elephant is a very rare activity which is provided exclusively by us. Here you can get a joyful experience of bathing and washing the elephants in a pool specially made for elephants. We will help you to bathe and play with Elephants in the water. Elephants also love water and want to play with you. So don't wait, start playing with Elephants and start making new friends. This will make your journey more memorable In the daytime, you can wash and play with Elephants in the water under our guidance.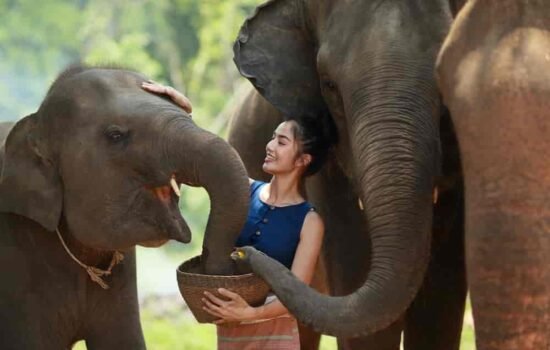 Feeding
Who doesn't like food? Like us, Elephants also love to have different types of foods. Spend some time by feeding elephants, this activity with elephants is provided here for a cause of good KARMA according to the Indian Culture as Elephants are the symbol of God in Indian Culture.  Feeding is the easiest and joyful way to make Elephants happy and to increase your trust with them. We provide Bananas for feeding Elephants. Elephants just love bananas and will love them if you feed them with your love. We also love if you move your one step forward to make new friends and feed our Elephants.
Trunk Climbing
Trunk climbing is a very decent activity which we provide in our Farmhouse. In this activity we allow you to climb on the elephant through the trunk. Here you can get the chance of facing the adventure of natural climbing on an elephant by the trunk. You don't need to worry about the elephant this activity won't hurt them in any way so just enjoy your BAHUBALI style trunk climb.
Jungle Safari
Jungle Safari is the special type of service provided by us. In Jungle Safari there is a thrilling Elephant ride through the areas and jungles near Amer and Nahargarh Fort. This ride also covers the Nahargarh Sanctuary and Amer Fort. We will cover the whole tourist area near Amer and Nahargarh Fort. The journey of Jungle Safari starts from our garden. And in the whole journey, we cover all the nearby tourist areas like Jungles, Villages, Nahargarh Sanctuary, Amer Fort, etc.
Explore More Related Tours
Rajasthan, the land of Kings. Get Complete details about Rajasthan Tours & Jaisalmer Tour Packages within few clicks.
Seeking out Jaipur's lesser-known monuments. Showcasing a perfect blend of history and modernity.
You Can Also visit at our office of Rajasthan Taxi Rentals
Cities Wise Links